Cascadia Courts Assisted Living, LLC - Silver Spring, MD

Cascadia Courts Assisted Living, LLC - Silver Spring, MD
This years the foliage on the Matthew Henson trails by Cascadia Courts assisted living facility were more beautiful than the previous 2 years.  Partly due to the now matured trees which span the path.  One of the most scenic views of the trail is attached for your view.  This historic trail is just steps from our assisted living facility.  Last weekend I had the awesome experience of walking two miles on the trail with a 90 year old resident who has a passion for walking.  She was stronger than I expected and very offended by my offer to hold her hand on the way back.  The beauty of the trials lends for a relaxing view on the front porch and side patio of the facility and residents as well as staff often gaze through the window at the lovely tall trees.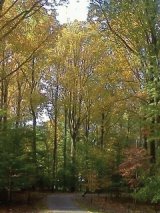 Upside Down Why millennials can't start their careers and baby boomers can't end theirs. - National Journal 6/11/11.
This article depicts the growing problem of new college graduates who can't find jobs due to the large  numberof seniors still in the work force.  Seniors are working either because they need the financial resources or they are experiencing meaningful employment at later stages in life.  Either way, their refusal to leave the work force creates a dilemma for young graduates who need work.  It is the iniput of these younger workers who will contribute to social security and medicare for the seniors.
What's the solution to the conundrum?
I've attached a very interesting article on how closer scrutinuy of hospitals can reduce government cost and hospital acquired conditions.  So much more can be said about hospital acquired conditions that it needs special attention. 
The CDC and The Center for Medicare/Medicaid Services(CMS) have done some work in monitoring hospital acquired conditions such as infections but so much more needs to be done.  The public should be better educated on the true risks or the potential thereof when they enter a hospital either as a patient or a visitor.
Patient care units that tend to more critically ill patients tend to have higher levels of exposure. More needs to be done to ensure the safety of staff and visitors to these units.  Hospital leadership teams and external monitoring agencies such as CMS and The Joint Commission (TJC) must ramp up their level of monitoring in order to effectively manage the concerns of all stakeholders.  Until that is done consumer of health care must be savvy and explores creative methods of self protection from hospital acquired conditions.
/